It takes passion and dedication to produce the best-quality furniture.
About My Own Bali.
UMA FARIDA

FOUNDER.
Farida leads the strategic development.
Farida was born in Indonesia and grew up in a world of furniture.
After obtaining a business diploma in Central Java, she moved to Ireland where she graduated in Business Opportunity. From 2005 to 2011, she worked for international companies as a general director, purchasing negotiator, sales representative and exportation agent.
In 2011, Farida found My Own Bali.
Farida is an accomplished cook and likes her coffee with two sugars.
DERYCKE GAËL
DIRECTOR OF OPERATIONS.
Gaël is in charge of the business efficiency and heads the quality management.
From 2000 to 2007, Gaël worked as an Art Director for fashion magazines. He worked on advertising campaigns for brands such as Nike or Volkswagen.
After living in Brazil, Argentina and Australia, he moved his office to Indonesia.
In 2011 Gaël co-found My Own Bali.
Gaël is a boxing enthusiast and likes his coffee black.
OUR STORY:
In 2011 a team of wood-lovers and furniture specialists joined forces.
We opened a small furniture factory in Indonesia.
Today we manufacture quality furniture and export it worldwide.
OUR MISSION.
We provide independent retailers and home decor professionals with quality furniture at wholesale price.
WE DELIVER QUALITY.
We carry out tight quality controls.
Our collections follow international quality standards.
WE ARE FLEXIBLE.
We offer bespoke furniture.
Do you need a 6m long dining table? Just let us know.
WE COMMUNICATE.
Communication is trust.
From the moment we start production to the moment you unpack your goods, we will send you regular updates.
WE WORK FAST.
We understand your time-constraints.
We always respect the timeframes and deadlines.
OUR COMMITMENTS.
We manufacture our collections ourselves.
There is no middlemen.
PREMIUM MATERIALS.
We build our furniture with the best woods.
We use quality glue, dowels, railing systems and varnishes.
INTEGRITY.
We support our employees with fair salaries.
SUSTAINABILITY.
We love Nature.
All our materials come from legal resources.
CERTIFICATIONS.
We have all legal wood accreditations.
We track every piece of wood that enters our factory.
OUR PHILOSOPHY.
We supply the furniture you need and it feels good.
STOP WASTING TIME AND MONEY.
Working on an interior design project takes a lot of time. Running an independent retail store is a lot of work.
Why should you travel half of the world to find a supplier? We make it easy for you to buy quality furniture at wholesale price.
RELAX AND ENJOY.
We don't have to wear a suit to be professionals.
Our work speaks for itself. We are easygoing, transparent and honest.
Our prices are great and our quality is outstanding.
No stress. When you are happy we are happy.
It's that simple!
Drop us a line to tell us more about what you.
QUICK FACTS ABOUT MY OWN BALI.
LET'S SEE WHY YOU WILL LOVE TO WORK WITH US.

EXTENSIVE SHIPPING KNOWLEDGE AND ADVISES.
We worked for more than a decade in the industry.
We give you the best shipping option.
REASONABLE PRICES.
We strive to optimize the costs without sacrificing quality.
We have long-term relationships with our customers.
GOOD COMMUNICATION SKILLS.
We are good at listening. We do our best to fulfill your needs.
EFFICIENCY.
We are flexible with regards to working hours.
We answer emails in a matter of hours, often minutes.
CLOSEST ATTENTION TO DETAILS.
We pay excellent attention to details.
You will receive quality furniture in time and in perfect conditions.
WE LOVE YOU.
We want to know you, as a person.
We respect people and their specific needs.
PROBLEM SOLVING SKILLS.
We act in a quick and responsible way. We discuss problems before they arise.
EXPEDIENT DELIVERY.
We follow-up with cargos to make sure that they deliver your furniture on time.
SOCIAL AWARENESS.
We manufacture our furnishings products in a social, ethical, and responsible way.
TRUST AND HONESTY.
We believe in transparency.
We accept no hidden commission.
OUR QUALITY:
We love what we do. We strive to become better.
In manufacturing, quality is everything.
Manufacturing the best possible furniture is not our target. It's our way of life.
Everyday we learn. Everyday we get better. We believe in constant meaningful improvement.
We want to become better people, learning and working together.
Here are some specific things we do to ensure quality.
WHAT WE DO TO ENSURE QUALITY.
Our drafter prepare technical drawings for all items we manufacture.
Our wood grader makes sure we always use the correct woods.
Our wood grader kiln-dries our wood in our oven.
Our wood working team use grade A/B wood.
Our wood working team only use sustainable wood.
Our assembling quality inspector controls the Moisture Content of all our furniture.
Our wood working team treats our wood with anti-bugs products.
Our finishing quality inspector checks all items to ensure the finish is correct.
Our wood working team uses proper wood working techniques.
Our assembling quality inspector checks the construction of all assembled items.
Our finishing team use quality finishing products from global brands.
Our finishing quality inspector checks all items to ensure the finish is correct.
Our upholstery team uses quality foams with proper density from global brands.
Our upholstery team uses quality indoor and outdoor fabrics from global brands.

– –

Our upholstery team sews all upholstery with Serafil threads.

==

Our upholstery team sews all upholstery with double row stitching.
Our packing team wraps the items with foam sheet, bubble wrap, 3-ply cardboards and styrofoam.
Our final quality inspector checks all items before and after packing.
Our packing team tags each package with a detailed shipping mark.
Our PPIC monitors the schedule targets daily.
We send weekly picture updates during production, so the customer keeps track.
Our photographer shoots each item with professional pictures before we load the container.
WHAT WE NEVER DO.
We don't work without technical drawings.
We don't use random wood planks.
We don't sun dry our wood.
We don't use wet wood to manufacture furniture.
We don't use sap woods.
We don't use illegal logging wood.
We don't assemble our furniture with nail guns.
We don't assume the furniture construction is correct.
We don't use cheap local finishing products.
We don't assume the finishes are correct.
We don't use cheap soft foams.
We don't use cheap fabrics.
We don't use low-quality sewing threads.

– –

We don't sew our upholstery with simple stitching.
We don't wrap our items in corrugated paper.
We don't load packages unmarked.
We don't make excuse for not making a deadline.

Long story short: we make sure that our customers are happy!


HOW TO ORDER?
MY OWN BALI IS ON INSTAGRAM.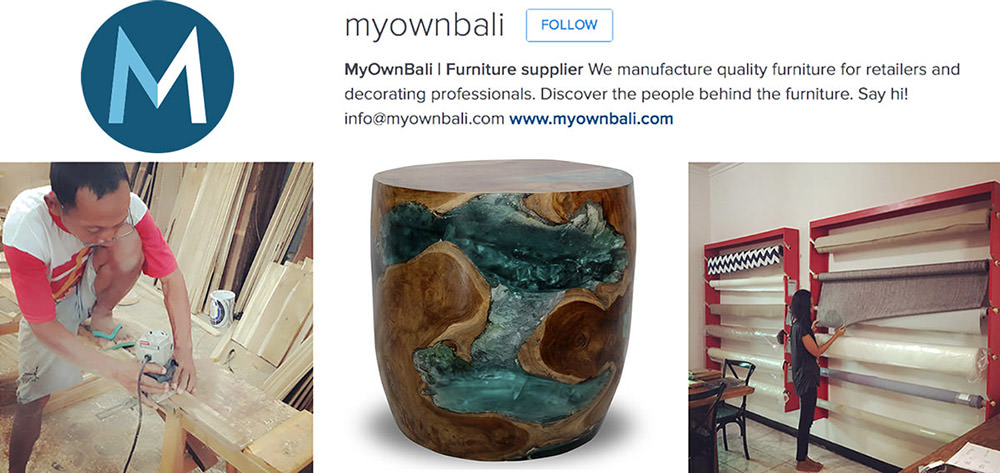 More about My Own Bali.
Browse daily pictures of our production.
See how we work.
Discover our latest furniture.
Join the fun!