We manufacture and supply suar tables, coffee tables, dining tables and side tables.
DISCOVER OUR SUAR WOOD TABLES:
Click on any image to see a larger version.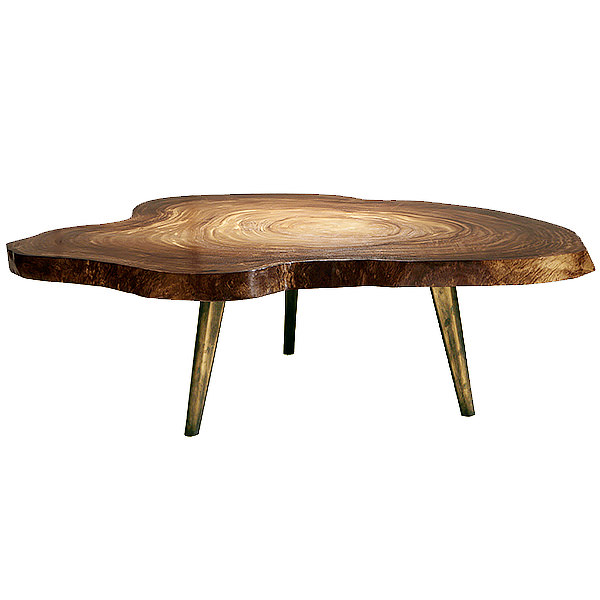 NATURE SHAPE COFFEE TABLE
WITH THREE LEGS 6CM
PRICE: USD 135.00
SIZE: W50–D50–H45cm | CBM: 0.112
PRODUCT ID: SF-T-CFT-001
With its natural shape, this suar coffee table will look great in any interior. The 3 legs make the design remarkable. To build this furniture we used quality wood from a big rain tree.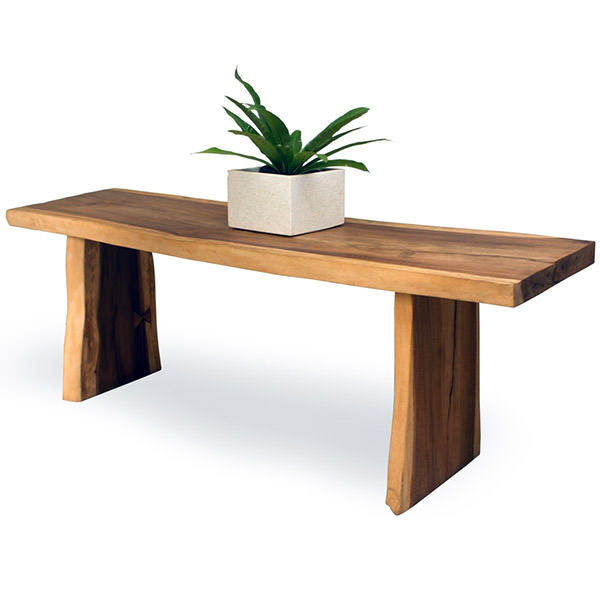 HANOI CONSOLE
PRICE: USD 345.00
SIZE: W160–D60–H75cm | CBM: 1.080
PRODUCT ID: SF-T-CT-006
You can use this beautiful suar console in different rooms. Put it in your living room and you can use it as a TV cabinet. Move it in the kitchen and you have a small table. Bring on your terrace as a handy side table for your garden parties.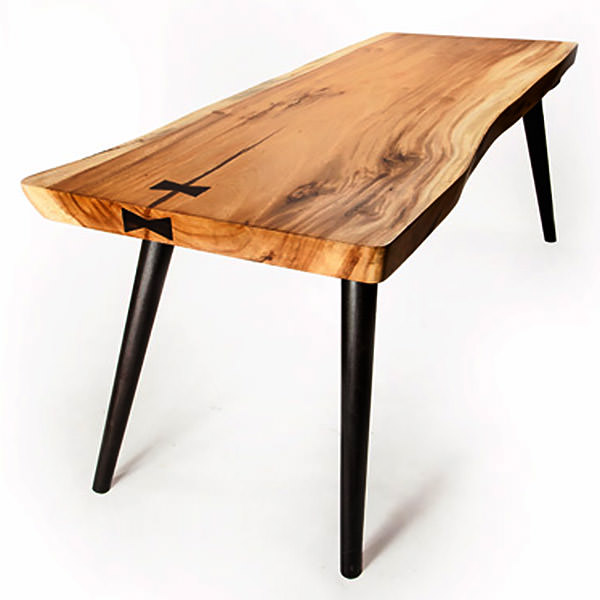 BUTTERFLY CONSOLE TABLE
PRICE: USD 356.00
SIZE: W160–D90–H75cm | CBM: 1.080
PRODUCT ID: SF-T-CT-007
This console table has a large top with a natural shape. With the round legs, the furniture will bring a casual feel to your interior. Like all our suar furniture, this suar console table is available at wholesale price.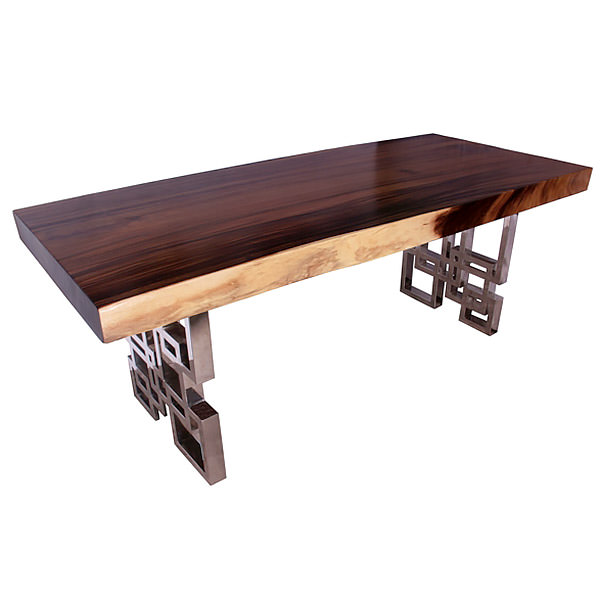 HONG-KONG NATURAL SHAPE DINING TABLE
WITH IRON LEGS
PRICE: USD 810.00
SIZE: W240–D90–H78cm | CBM: 1.560
PRODUCT ID: SF-T-DT-009
This dining table has a suar table top and two iron legs. The mix of metal and wood looks great. With the geometric pattern of the iron legs, the table has a strong asian feel.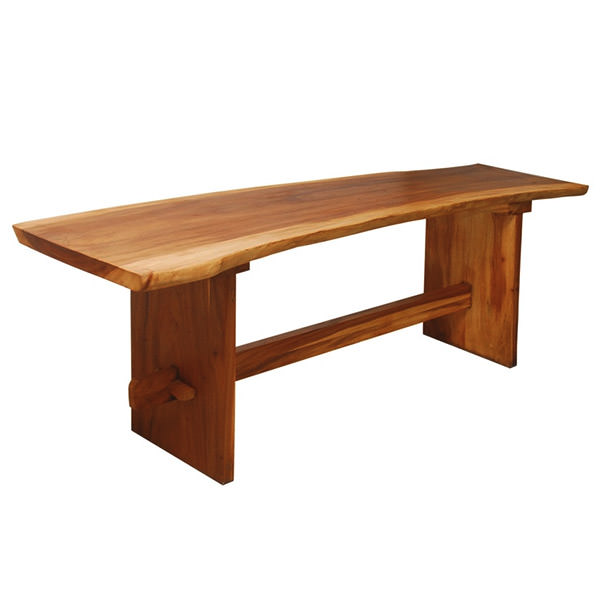 TRADITIONAL NATURAL DINING TABLE
WITH SUPPORT
PRICE: USD 654.00
SIZE: W260–D90–H78cm | CBM: 1.560
PRODUCT ID: SF-T-DT-011
We built this dining table with suar wood only. The furniture has a strong design and will make a beautiful statement indoor, if you choose to put it in a kitchen or a living room. You can also display the suar table on your terrace. You can also use it under a gazebo. Possibilities are endless.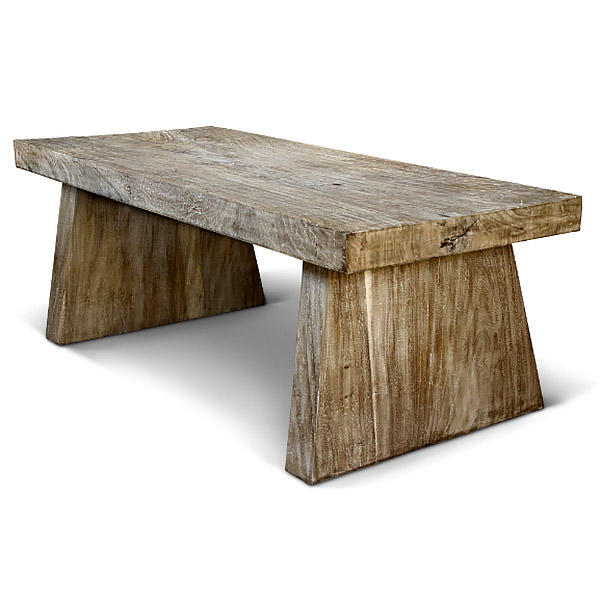 SALUDIN DINING TABLE SOLID
PRICE: USD 671.00
SIZE: W260–D90–H78cm | CBM: 1.560
PRODUCT ID: SF-T-DT-012
For this solid dining table, we chose a white washed finishing, that enhances the beauty of the saman wood. Just to remind you, saman and rain trees are different names for suar but they all are the same wood.
Suar tables manufacture at wholesale price.
Do you want to buy suar dining tables at wholesale price for your furniture retail shop?
Are you looking for a long natural-shaped wooden table for an interior design project?
Do you need suar tables for your hotel?

We manufacture and export quality suar tables at the most reasonable price.
HOW TO ORDER SUAR TABLES?
Ordering our suar tables is easy. Follow these simple steps.
Press the Contact button below
(or email us at info@myownbali.com).
Copy the product ID for every furniture you want.
Specify the quantity you need.
Tell us more about you.
That's it! We will answer with a free quote in less than 24 hours.
MORE ABOUT OUR SUAR TABLES WHOLESALE:
OUR PRICES ARE IN US DOLLARS.
A PRICE THAT SAYS USD 126.00 IS 126 US DOLLARS AND ZERO CENTS.
OUR SIZES ARE IN CENTIMETERS. 'W' IS FOR WIDTH, 'D' IS FOR DEPTH AND 'H' IS FOR HEIGHT.
A SIZE THAT SAYS W110-D45-H90cm IS FOR AN ITEM THAT IS 110cm WIDE, 45cm DEEP AND 90cm HIGH.
CBM IS THE CUBIC METER SIZE OF THE ITEM.
PRODUCT ID IS THE PRODUCT REFERENCE FOR EVERY SUAR TABLE YOU WANT TO ORDER.
DON'T FORGET TO ADD THE QUANTITY!
MORE ABOUT HOW TO ORDER OUR SUAR TABLES.


More information about tables in furniture.