We manufacture and supply teak wardrobes and armoires.
DISCOVER OUR TEAK WARDROBES:
Click on any image to see a larger version.

WARDROBE TWO DOORS
PRICE: USD 488.00
SIZE: W125–D60–H200cm | CBM: 1.500
PRODUCT ID: TF-W-WA-001
Add life to your bedroom with this elegant teak wardrobe. The furniture has two doors and ornaments on top. We carved the ornaments to give the inside of your wardrobe a natural flow of fresh air. We used top-quality teak wood to build this furniture. The subtle color variations of the wood will add warmth to your room. It will leave people wondering at the history hidden inside the furniture.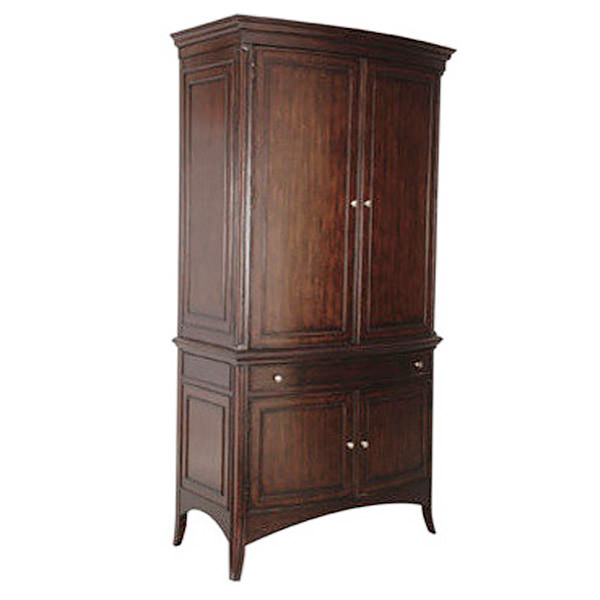 WARDROBE FOUR DOORS AND TWO DRAWERS
PRICE: USD 455.00
SIZE: W100–D50–H180cm | CBM: 0.900
PRODUCT ID: TF-W-WA-002
This furniture is one meter long. You can display it in small rooms. We manufacture all items from this collection with the best quality of teak wood. You can change the dark brown finishing if you want to. Tell us what you want. Like all our teak furniture, this teak wardrobe is available at wholesale price.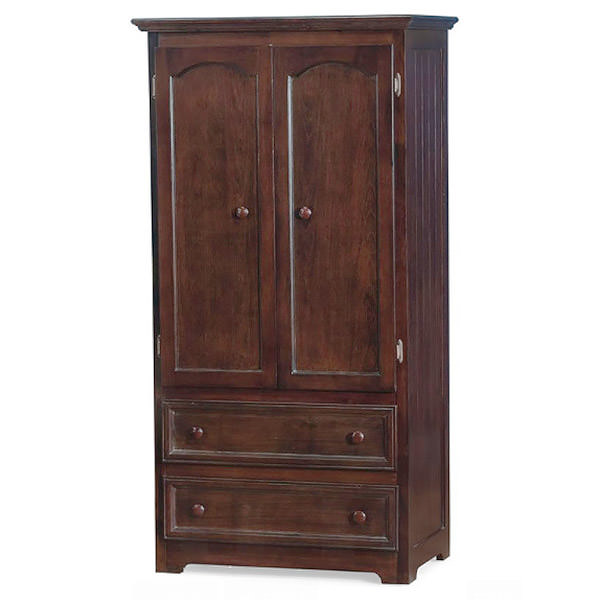 WARDROBE TWO DOORS AND TWO DRAWERS
PRICE: USD 455.00
SIZE: W100–D50–H180cm | CBM: 0.900
PRODUCT ID: TF-W-WA-003
This teak wardrobe is the ideal way to enhance the beauty of your bedroom. We make it with premium teak wood. This wardrobe is strong and will last for generations. The furniture is also good-looking. How nice would this quality item look in your home? The dark brown finishing is optional.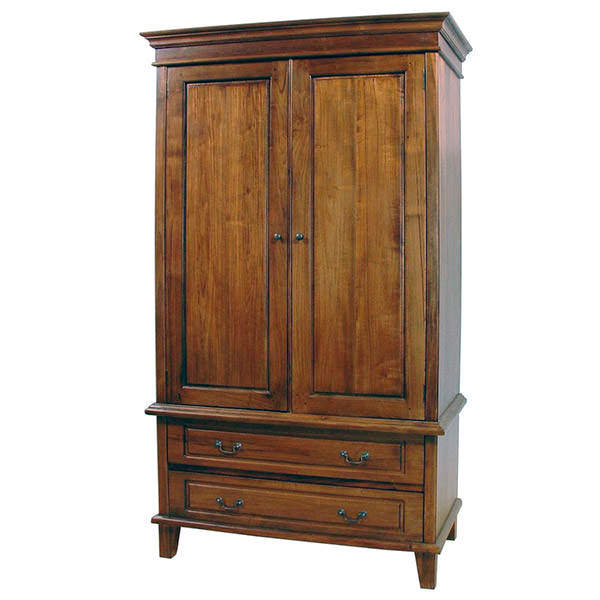 WARDROBE TWO DOORS AND TWO DRAWERS
PRICE: USD 455.00
SIZE: W100–D50–H180cm | CBM: 0.900
PRODUCT ID: TF-W-WA-004
We build our furniture with traditional methods of cabinet making. We use dovetail techniques to join the angles of the wardrobe. We use strong dowels and quality products for the finishing. The teak armoires will age in a nice way and last for generations.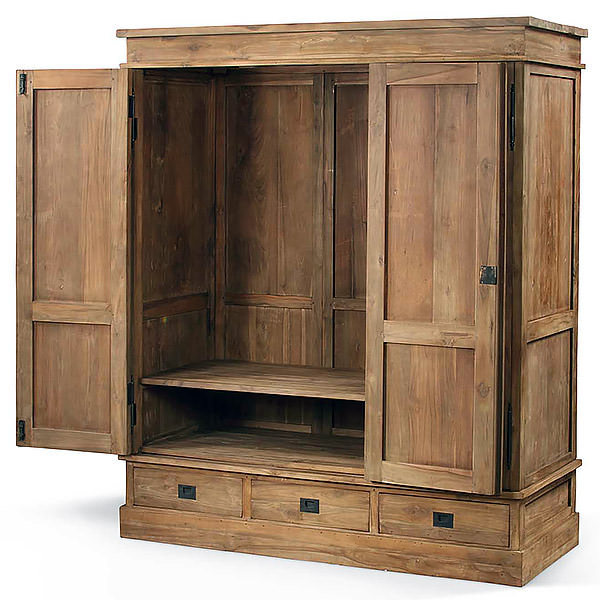 WARDROBE THREE DOORS AND THREE DRAWERS
PRICE: USD 587.00
SIZE: W150–D60–H200cm | CBM: 1.800
PRODUCT ID: TF-W-WA-005
We designed this teak wardrobe with comfort and functionality in mind. This furniture will fit in an average bedroom. It has three doors and three drawers in the bottom. This teak wardrobe offers plenty of space to store all your clothes, but also your bed sheets and your towels.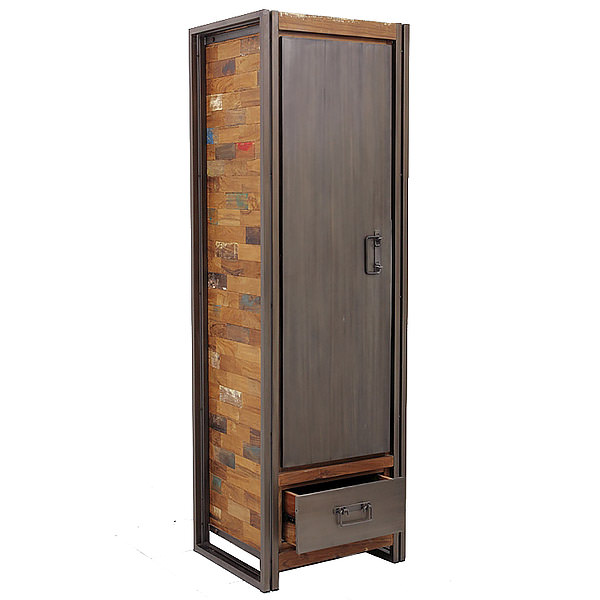 WARDROBE ONE DOOR AND ONE DRAWER
PRICE: USD 358.00
SIZE: W60–D55–H200cm | CBM: 0.660
PRODUCT ID: TF-W-WA-006
This metal and teak wardrobe provides smart storage options. It has a hanging space inside and an extra drawer at the base. The extra drawer offers a useful space to store your spare bedding or socks. We built the sides with vintage teak wood while we built the door and drawer front with powder coated iron. It also has two beautiful iron frames to hold the sides.
Teak wardrobes manufacture at wholesale price.
Do you want to buy teak armoires at wholesale price for your furniture retail shop?
Are you looking for a beautiful wardrobe with 2 doors and 2 drawers for an interior design project?
Do you need teak wardrobes for your hotel?
We manufacture and export quality teak wardrobes at the most reasonable price.
HOW TO ORDER TEAK WARDROBES?
Ordering our teak wardrobes is easy. Follow these simple steps.
Press the Contact button below
(or email us at info@myownbali.com).
Copy the product ID for every furniture you want.
Specify the quantity you need.
Tell us more about you.
That's it! We will answer with a free quote in less than 24 hours.
MORE ABOUT OUR TEAK WARDROBES WHOLESALE:
OUR PRICES ARE IN US DOLLARS.
A PRICE THAT SAYS USD 126.00 IS 126 US DOLLARS AND ZERO CENTS.
OUR SIZES ARE IN CENTIMETERS. 'W' IS FOR WIDTH, 'D' IS FOR DEPTH AND 'H' IS FOR HEIGHT.
A SIZE THAT SAYS W110-D45-H90cm IS FOR AN ITEM THAT IS 110cm WIDE, 45cm DEEP AND 90cm HIGH.
CBM IS THE CUBIC METER SIZE OF THE ITEM.
PRODUCT ID IS THE PRODUCT REFERENCE FOR EVERY TEAK WARDROBE YOU WANT TO ORDER.
DON'T FORGET TO ADD THE QUANTITY!
MORE ABOUT HOW TO ORDER OUR TEAK WARDROBES.


More information about armoires.